When it's time to upgrade your ride…
There comes a time in every elevator's life when it's time to replace or modernize. Given the high cost of elevator replacement, modernization is often the smartest choice. Elevator modernization can address all aspects of your equipment to enhance safety, performance, and aesthetics, while also enabling your existing equipment to handle new technology. Here are 10 tips to take into account for any elevator modernization project.
---
1- Ask for a modernization plan from a qualified elevator service company.
Following inspection, your elevator service company may recommend refurbishment, partial modernization, full modernization, or full replacement. Consider their recommendations carefully, and seek a second opinion if needed.
2- Plan ahead to minimize disruptions to normal building traffic.
Your elevator will be out of service during the modernization process, which can range from a few months, to as long as a year. In buildings with more than one elevator, disruptions can be minimized by staging of phasing elevator modernization work over time, leaving other elevator(s) operational during the modernization project.
3- Think safety and performance first…with upgraded controllers and motors.
Any modernization project must be undertaken to address safety and reliability now and in the future, so particular attention should be paid to the evaluation of aged mechanical components such as controllers, hoist machines, motors, and electrical wiring.
4- Don't settle for a "modernization package" from the elevator manufacturer.
Most original equipment manufacturers offer modernization "packages" for existing elevator equipment. However, it pays to seek advice from an independent elevator service company, who can often perform equivalent or better modernization solutions at a lower cost.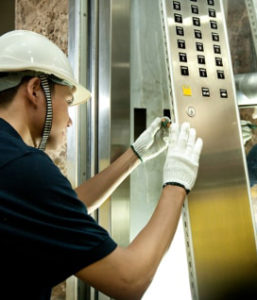 5- Customize your modernization solution with all the right touches.
You don't have to settle for an out-of-the-box, packaged elevator modernization solution. With so many options for mechanical components, technology, finishes, lighting, and materials, your elevator service company can help you explore the best options.
6- Enhance interior cab aesthetics for a better riding experience.
Upgrades to interior paneling, buttons, electronics, lighting, railings, flooring, and other components can enhance the aesthetics and functionality of your elevators cost effectively.
7- Incorporate new technology into older elevators.
Today's elevator add-ons can include speech recognition technology, flat-screen monitors, touchscreens, cameras, automatic lighting, and a host of other technology options.
8- Repair or replace door tracks to ensure smooth operation.
The smooth opening and closing of elevator doors on each floor is important to the rider's sense of elevator and building safety. Modifying or replacing old door tracks is a relatively inexpensive way to address this issue.
9- Replace old drive components with solid-state electronics.
Ride quality can be greatly improved by replacing generator-based drives with Variable-Voltage, Variable Frequency (VVVF) drives. Doing so will provide nearly seamless acceleration and deceleration as the elevator travels, and significantly reduce operating costs.
10- Ensure compliance with current codes.
At the end of your elevator modernization project, you can have the peace of mind of knowing that all aspects of your elevators – including redundant brake systems and other safety systems – are in compliance with current codes.
---
If you need more information on elevator modernization, or would like to talk to a modernization specialist, call us. We'll be happy to evaluate your current equipment and provide recommendations. Our modernization solutions utilize high-quality systems and components, typically at a lower cost than manufacturer equipment packages.